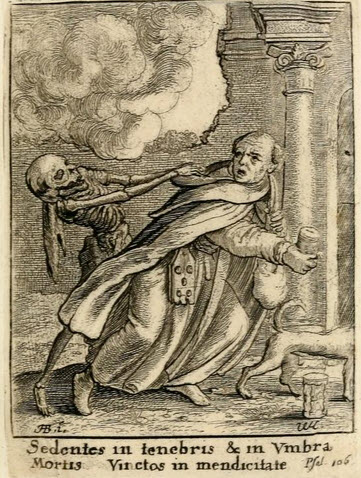 NOTE: see https://commons.wikimedia.org/wiki/Category:Danse_Macabre for a large collection of various dance macabre's which can be harvested
PLANNED FUTURE ADDITIONS: Add Wolgemuts dance of death gallery, improve the cross linking in the gallery so that all pages are available from one menu.
November 30, 2021 -- Made some tweaks to front page and navigation bar at bottom.
November 23, 2021 -- Revamped the Holbein gallery by enlarging the images, adding text. Added an article about the Danza General, the universal dance of th dead.
November 21, 2021 -- Added a new image to the front page and linked to deep content in the gallery.
November 16, 2021 -- Enlarged pictures in the Holbein gallery.
November 13, 2021 -- Revamped the front page, and various other pages. Added images generated by Nightcafes art AI to enhance the content and make sure that the images are google-pleasing originals.
May 21, 2021 -- Fixed issues with images not loading. Converted inner pages to new template. Created and submitted a sitemap to google.
May 16, 2021 -- Converted all internal links to https and also set canonical urls on every page except some deep content in the Holbein gallery. Made revisions and updates to the front page.
May 3, 2021 -- Converted site to SSI by forcing redirect and also adjusted links to the CSS accordingly.
May 29, 2020 -- Added google analytics to the top ssi code.
May 25, 2020 -- Added a favicon icon.
May 18, 2020 -- Converted pages in the image gallery up to image 25, the Old Woman, being led to the dance of death.
May 17, 2020 -- Converted th pages on Hans Holbein and on Death to the new format. Next have to convert all of the gallery pages (have already converted the first ten).In doing the conversion enlarge the images and also create back and forward links to each image in the gallery. Also added a new updated sitemap.
May 15, 2020 -- Suppressed ads on the Death and the Maiden page for fear that google will penalize me for content.
May 9, 2020 -- Built a new more mobile friendly template and began applying it throughout the site. Added new content to existing article pages by lengthening them and inserting new images. Some images were modified from their historical source materials using lunapic.com just to give Google bot some new content to detect. Changed adsense to let Google pick size and placement for me. We shale see if that makes a difference.
February 25, 2017 -- Revamped the front page and other sections. Fixed some meta tag errors. Added a page about Death and the Maiden.
October 16, 2016 -- Added article about Thomas Rowlandson. Switched over to asynchronous ads because the responsive ones suck
October 15, 2016 -- Cleaned up some spelling and grammatical errors. Cross linked pages. Added article on the Grim Reaper. Added Google analytics
November 22, 2015 -- Added images to various pages; enabled data highlighter with Google.
November 14, 2015 -- added an article about the influence of the dance of death on modern culture.
November 11, 2015 -- added an article about St. Vitus and his connection to the dancing mania.
October 21, 2015 -- Improved wording of the front page. Converted several pages to a modified universal bootstrap template. Added an article about the personification of death and also about the Dancing mania, as well as an article on the development of the Dance of Death from its origins in an actual medieval dance to later being mainly the subject of visual arts such as wood engraving.
October 11, 2015 -- Added about 50 pages of content including a gallery of the illustrations of the Dance of Death by Hans Holbein.
October 10, 2015 -- converted most of the site to a responsive mobile friendly template. Split the index page into two new pages
March 29, 2014 -- Added substantial content to the front page. Created a site map and robots.txt
February 6, 2014 -- Harvested images of Dance of Death. Set up a basic template
New additions: grim reaper, dance of death in modern culture.